The Squaddie Brass Monkey Regatta
The Squaddie Brass Monkey regatta was held on Sydney harbour on 12th and 13th August 2006.
14 cats went along this year including me on my Mozzie, and these raced against
five 18ft skiffs in their division.
A pleasant 9 hour drive (pleasant because I didn't have to do any of the driving – thanks Gary) was followed by pizza at Michael Boyd's place. Michael very generously accommodated us for the weekend.
While rigging on Saturday morning I met Ben Cutmore. He has Mick Molloy's old Mozzie, and just needs a few more Mosquitos on Pittwater to sail against.
Saturday – Race 1
We drifted to the start. Actually it was quite pleasant to begin with – spinnaker up, hull out of the water occasionally. Then we reached the course area and NOTHING. Massive gin palaces roaring all around making the sail slap – that monofilm window giving me industrial deafness. We finally drifted up to the start boat. After a brief postponement we were off. I started on port at the port end of the line with the A-classes and crept up the course with them to start with. Most of the skiffs and Gary were over on the right (closer to shore) and pulling away in slightly more nothing than we had on the left. Gary was looking very good. Finally we start to get the breeze, the A-classes pull away from me, and what do you know – we get lifted on port tack, leaving Gary and the skiffs doing a great circle of the windward mark.
Got the spinnaker up and set about catching the A-classes. I was back with them by the next upwind leg. The next downwind leg gets tighter and tighter on the starboard gybe until eventually the spinnaker has to come down (while Gary puts his up on what was the windward leg). Now I'm going to windward with the A-classes (180 degree change) but still very little wind. Drift for two more legs and finally the breeze arrives for the last leg to the finish (to windward this time around). The best breeze is inshore to the left hand side so a large number of skiffs decide the gate is just too inconvenient and give it a miss. Event organiser Ed Blackman, with a new 12ft skiff, lost out massively by being the honest guy that he is and sailing through the gate.
The time limit ran out some time ago but who cares, we got a result!. Now for a race in some wind! No, everyone's going home. Bummer. Back at the single boat ramp we have 50 boats trying to fit in. Lucky there's hardly any wind and we all manage to scramble, swim, paddle and shove our way in to the slipway. Back ashore and it's only 2:30, and the wind on the harbour is looking just perfect.
Michael Boyd sailed over in his Brand(er) new Blade F16, using his daughter's 29er spinnaker. It looks great. Make a note – Mosquitos looking for a cheap spinnaker look out for a second-hand 29er spinnaker.
Sunday – Race 2
Very similar to Saturday. Very light South Westerly due to die and turn into a North Easterly. We wait until it dies and then the race starts. 50 boats and 3 divisions sitting on the line going nowhere. Eventually we begin a slow drift into the dying breeze. Gary out far left (with an A-class & the Super Taipan) gets the shift first & puts his spinnaker up. They start to open up a big gap, even with their sails flapping in the wake of the gin palaces and ferries. I get my spinnaker up and head out of the pack at 45 degrees to everyone else. They watch me. They keep pointing at the mark. In a few minutes I make up a lot of ground on Gary and the A-class who have now lost the breeze again. They end up rounding well in front of me though. We head back down the course – now an upwind leg again, the A & Super Taipan pull away, and the race crew shorten the course after one lap (code flag X !).
Somewhere during this race the slamming of the monofilm window finally proves too much and a small section tears out. Finally, I can get that window replaced with something quieter!
Sunday – Race 3
Very exciting as we wait for all the stragglers to finish while the wind builds. Then the committee boat heads off to what is now the downwind end of the course. We head down to the new starting area with a hull out and spray flying – this is more like it. 8 knots of breeze for the start and the A-classes are off like a ferret up a trouser leg, fully traping and going very fast.
This race (and the next) had an unusual feature. There was a gate about 50m downwind from the windward mark. So all the cats and skiffs would round the windward mark on starboard. Those with spinnakers would put them up and then they would all try to tack on to port to get through the gate before they go past it. The resulting chaos was just what you would expect, and once again many skippers decided the gate was just too much trouble to bother with. In hindsight it may have paid to leave the spinnaker down and run straight down through the gate first, then put it up.
Sunday – Race 4
Another port biased line. Every start was port biased. So much so that many boats tried and some succeeded to start on port at the pin. Well they were not going to get away with it in the last race. Two F18s and the Mozzie sailed down the line in the final seconds before the start, completely closing the gate on the port tackers and then totally stuffing themselves up as they tried to get around the pin on starboard (the line was very biased). As a result the port tackers went around the back with speed and got away first again! In this race even the Mosquito was trapezing up every windward leg. No-one could complain about a lack of wind (not even the skiffs). This was heaven. Once again the windward mark was total chaos as 20 boats tried to gybe across the front of the other 20 on port. The remainder just didn't bother and once again used the "Optional application of the gate rule" philosophy. Those that fought their way through the carnage to get through the gate were certainly left with a feeling of pride in having achieved something quite impressive – even if bloody stupid. Those that ignored the gate gained nothing more than an unmarked boat and a better result. In this breeze it was the big Taipan, an 18 an A and the F16 that broke away, revelling in the mid-range breeze.
A strange regatta (that gate must go!). A spectacular location. A lot of fun and a very friendly club running the event. Tricky launching area. With temperatures in the 20s there were definitely no brass monkeys around! Ed Blackman did an excellent job, not only organising the event and a great collection of sponsored prizes, but taking part as well – not an easy thing to do.
Final note – I helped carry Ed's 12ft skiff (rigged) after the final race and it is light! I mean light! I mean really light! It makes our 55kg minimum platform weight seem excessive!
Tim
Click on the photo for the event photo album.
| Boat | Class | Helm | Tot | Pos | R1 | R2 | R3 | R4 |
| --- | --- | --- | --- | --- | --- | --- | --- | --- |
| Karma Cat | Mosquito (+ kite) | Tim Shepperd | 6 | 1 | 2 | 1 | 2 | 1 |
| Blue | A CAT | Glenn Brown | 19 | 2 | 3 | 2 | 8 | 6 |
| Altered | F16 | Gary Maskiell | 20 | 3 | 6 | 3 | 7 | 4 |
| SpecialisedMarine.com.au | Super Taipan | Andrew MacPherson | 23 | 4 | 9 | 5 | 4 | 5 |
| Shine | A CAT | Mark Griffith | 29 | 5 | 4 | 20 | 3 | 2 |
| Get Snuffed | F18 | Brad Owen | 32 | 6 | 7 | 10 | 6 | 9 |
| Barracouta Sails | 18 | Greg Paterson | 35 | 7 | 5 | 7 | 20 | 3 |
| Casio | 18 | Nick Press | 38 | 8 | 20 | 6 | 5 | 7 |
| Hello Tiger | F18 | Dylan Drummond | 40 | 9 | 8 | 8 | 12 | 12 |
| Synergy | 18 | Michael Carter | 41 | 10 | 20 | 9 | 1 | 11 |
| Alive | F18 | Stephen Medwell | 42 | 11 | 20 | 4 | 10 | 8 |
| Go Hard | A CAT | Bruce McArthur | 61 | 12 | 1 | 20 | 20 | 20 |
| Snap, Crackle and Pop | F18 | Natalie Rogers | 61 | 13 | 20 | 20 | 11 | 10 |
| Bob | Taipan 4.9 | Richard Aplin | 69 | 14 | 20 | 20 | 9 | 20 |
| Hobie Sports | Hobie 16 | Neil Moxham | 80 | 15 | 20 | 20 | 20 | 20 |
| Bling | A CAT | Gavin Vize | 80 | 15 | 20 | 20 | 20 | 20 |
| Jumping Castle | Hobie 18 | Andrew Mattinson | 80 | 15 | 20 | 20 | 20 | 20 |
| Toshiba | 18 | James Moor | 80 | 15 | 20 | 20 | 20 | 20 |
| CST Compisites | 18 | Chris Dixon | 80 | 15 | 20 | 20 | 20 | 20 |
| | |
| --- | --- |
| Sauna Sail – Latrobe Valley YC | --- |
With relatively warm weather and 5-10 knot winds and sometimes 15 knots plus, this
was one of the best Sauna Sails for some time. The second Saturday afternoon race
provided the expected sail in the mist, with only the tops of the other boats masts to give us
a clue where the marks were.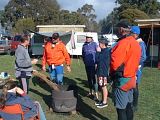 Once again the delicious Sunday roast was thoroughly enjoyed by all, in the midst of the Mosquito "wagon circle".
Peter Nikitin was minus a boat this year so he went out on a rescue boat and
took a lot of photos on Saturday. These (along with a few other great shots from
LVYC) can all be seen on the
Photobucket site here.
There were 21 boats in the "above 79" cats division (2) and 21 boats in the cats with spinnaker division (7). Neil Joiner was the first of the spinnakered mosquitoes in division 7 and so is returned as the Victorian State Spinnaker Title holder for 2005/2006.
Results:
1st
Rob Lott
Division 2
4th
Clint Burgess
Division 26thGordon HydeDivision 27thAndrew NeesonDivision 211thAndrew & Craig CoplandDivision 218thChris BurgessDivision 72ndNeil JoinerDivision 73rdTim ShepperdDivision 710thPhilip Warren-Smith
Division 2 – Cats YS 80 and above
PlaceTiesSail NoBoat NameClassSkipperCrewFromSers ScoreRace 6Race 5Race 4Race 3Race 2Race 1
1&nbsp1786Grey AreaMosquitoRob Lott&nbspMYC6.01.01.01.01.0[8.0]2.0
22.0S3050Boy At HeartPaperTigerMike Wold&nbspYC18.0[22.0S]2.02.06.04.04.0
3&nbsp2840Happy JackPaperTigerAndrew Smith&nbspLVYC18.0[22.0S]4.03.03.02.06.0
4&nbsp1686Serial ThrillerMosquitoClint Burgess&nbspLGYC20.03.06.08.02.01.0[8.0]
5&nbsp2117CostABitPaperTigerJason Dunsmore&nbspMcCYC22.0[22.0S]3.05.04.03.07.0
6&nbsp17XXAir ApparentMosquitoGordon Hyde&nbspLMYC28.04.010.06.05.0[22.0C]3.0
72.0S1792VeloceMosquitoAndrew Neeson&nbspBEA YC43.02.022.0C[22.0C]7.07.05.0
8&nbsp6394CEE 4Hobie17Nick Bacon&nbspSBYC43.06.05.011.011.0[12.0]10.0
9&nbsp1931PolarisPaperTigerMal Willis&nbspBYC45.0[22.0S]7.07.017.05.09.0
10&nbsp2848ClamPaperTigerMicheal Thorn&nbspMt Martha YC47.0[22.0S]8.09.09.06.015.0
11&nbsp1746HexhamMosquitoAndrew CoplandCraig CoplandLVYC52.05.09.04.012.022.0C[22.0C]
12&nbsp105018Screamin' SeamenHobie16Daniel StoneTom JohnsonYC58.09.011.014.0[14.0]11.013.0
13&nbsp01Unexplained AbsenceHobie16Philippa PietromoncaChase LuratiWesternport YC59.08.012.0[22.0C]13.015.011.0
14&nbsp201UltimateSolo16Bruce Armstrong&nbspFYC64.022.0S22.0F[22.0F]10.09.01.0
15&nbsp3057The Dancing SailorPaperTigerKen Fay&nbspBnYC65.07.0[22.0F]12.018.014.014.0
16&nbsp3022Virtual RealityPaperTigerAlan White&nbspYC66.022.0S[22.0C]10.08.010.016.0
17&nbsp398TurboCobraStan Blazejewski&nbspYC78.010.013.0[22.0F]19.017.019.0
18&nbsp1557Amos KeetoMosquitoChris Burgess&nbspLGYC80.022.0C[22.0C]13.015.013.017.0
19&nbsp81946Jumpin' Jack FlashHobie16Micah MillsFleur VarkevisserMtM YC88.022.0S22.0C[22.0C]16.016.012.0
20&nbsp903No NameHydraJura PranikouskiJohn CameronLVYC89.011.022.0C[22.0C]20.018.018.0
21&nbsp2333No NameHobie17Darren Gould&nbspYC110.022.0S22.0S22.0F22.0C22.0C[22.0C]
Division 7 – Cats with Spinnakers
PlaceTiesSail NoBoat NameClassSkipperCrewFromSers ScoreRace 6Race 5Race 4Race 3Race 2Race 1
1&nbsp46CapriciousF18Simon McKeonOliver McKeonMcCYC11.0[5.0]2.02.04.01.02.0
2&nbsp1789ImmunityMosquitoWSpinNeil Joiner&nbspGLYC15.01.0[25.0C]4.01.04.05.0
3&nbsp1775Karma CatMosquitoWSpinTim Shepperd&nbspGLYC18.02.0[7.0]6.03.06.01.0
4&nbsp1892Good QuestionHobieTigerRobbie LovigGlen DouglasWPYC21.0[25.0S]3.08.05.02.03.0
53.0S291Bigger Than 10 BearsTornadoAndy GriffinDavid HartSYC33.07.04.03.012.0[13.0]7.0
6&nbsp1730Buff The BevaHobieTigerLachlan GibsonTobi GibsonWPYC33.06.05.05.07.0[12.0]10.0
7&nbsp00MacatakF16 (Taipan)James McDonaldCampbell WolfFYC36.09.09.0[9.0]6.08.04.0
8&nbsp80Carricorn1F18Greg GoodallChris BoagPMYC37.08.01.01.02.025.0L[25.0L]
9&nbsp5000AlteredF16Gary Maskiell&nbspGLYC45.010.010.0[25.0C]8.09.08.0
10&nbsp1794Splashes TooMosquitoWSpinPhilip Warren-Smith&nbspRYC48.04.08.0[25.0C]10.017.09.0
11&nbsp322Tasi OciF16 (Taipan)Gordon BarrettJenni DuthieFYC53.012.012.010.09.010.0[13.0]
12&nbsp1888SICHobieTigerJake LuratiRussell LuratiSGYC66.011.015.013.015.0[22.0F]12.0
13&nbsp1556Peace OffHobieTigerKane ButcherLindsay ShawFYC69.0[25.0S]11.011.014.011.022.0C
143.0S558She GoesAClassLarry Fay&nbspMcCYC70.03.0[25.0C]14.020.022.0R11.0
15&nbsp1731Lethal WeaponHobieTigerMichael BurdackLindsay ShawFYC70.025.0S14.0[25.0C]11.05.015.0
16&nbsp02Lone WolfAlphaOmega4.3SpinAntony Barrett&nbspASC72.025.0S25.0C[25.0C]13.03.06.0
17&nbsp738No NameAClassAndrew Wize&nbspMcCYC82.025.0S6.07.019.025.0L[25.0L]
18&nbsp3194PlayF16 (Taipan)Col JohnsonBryce DensleyFYC88.013.025.0C17.0[25.0C]15.018.0
19&nbsp1502SheilaHobieTigerJosh ThringPhillip VaudreyRANELAGH YC89.025.0S[25.0C]15.017.016.016.0
20&nbsp864The Other WomanAClassMatt Firth&nbspSBYC93.025.0S13.012.018.025.0L[25.0L]
21&nbsp1856WickedHobieTigerMark DybleStephen DybleRYC94.025.0S25.0C[25.0C]16.014.014.0
22&nbsp16801Black PigHobie18withSpinnDarren SmithWayne CoxYC96.025.0S16.016.0[25.0C]22.0C17.0
23&nbsp1503Sir LancelotHobieTigerTim VanceHaley GreenFYC104.025.0S25.0S25.0S[25.0C]7.022.0F
24&nbsp561ScreamCobraSpinWesley Miles&nbspPYC119.025.0S25.0S25.0S[25.0C]22.0C22.0F
| | |
| --- | --- |
| Wet weekend at Frankston – 29/30 April | --- |
Well we had a wet and windless weekend at Frankston but the club were very
welcoming and it was great to get in 3 short races with a fleet of Taipans and
F18s. We will have to meet up with the Frankston fleet again next season.
Attended by Jon Guymer, Brett Rowe, Mick Floyd, Robert Lott cat rigged and Phillip Warren-Smith, and Peter Nikitin with spinnakers.
The Mozzies Sailed in division 3 which included A class, Paper Tigers, Arrow, Kitty cats and Cobras.
Race 1
Jon Guymer continued his bad luck, tapping the start bouy and being disqualified, while Robert broke his trapeze rope and capsized. On yardstick we were beaten by the kitty cats, which came in first and third. Peter Nikitin was the first Mosquito in second place overall. Robert had a good lift on the last leg to get past Mick Floyd on the last beat to the finish. Followed by Brett Rowe, who was able to hold out both of the Cobras.
Race 2
Jon Guymer lead from the start but it didn't take long for his bad luck to kick back in, heading to shore to try and get a lift he fell in hole, letting Robert, Peter and Mick past him. At least we beat the kitty cats this time round.
RobertSecondMickThirdPeterFourthJonFifthBrett
Race 3
Phillip Warren-Smith turned up at 11 pm, making a fleet of six mosquitoes.
Jon Guymer lost the end of his downhaul in the mast while rigging his boat for the first race of the day. It is an internal set up so he had to pull the mast apart, and decided it wasn't his day to sail. With the wind 10 – 15 knots and a crowded start line Mick and Peter got a good clean start in the middle of the line. Phillip got a good start low on the line. Robert was boxed in by paper tigers and A-class but sailed through the middle of the course to be first to the top mark even though Peter tried calling starboard when on port to get in front at the top mark. The results from this race show the yardstick to be pretty accurate as Peter and Robert finished on the same corrected time.
elapsed timeCorrected timePeter 51.07 63.83Robert 53.62 63.83Philip 53.93 67.43Mick 58.85 70.07
Race 4
15 knots, with a lazy start. No-one on the line but Mick, but Peter was first to the top mark. Peter and Philip had a good fight all around the course, as did Mick and Robert, but on the last leg Robert had a good lift to bring him right up behind Peter and Philip.
elapsed timeCorrected timeRobert 52.65 62.68Peter 52.4 65.5Philip 52.48 65.60Mick 55.5 66.07
Robert jumperSecondPeter travel bagThirdMick toolbox
The ANZAC day race was an all-in start with the remaining boats. Peter Nikitn lead from start to finish beating three Taipans over the line, two of them with kites.
All up it was a very good weekend but, being so close to Easter, numbers were down on last year. Local Mosquito sailor John Bursaill (1555 Out Of the Blue), was running the event.
Robert
"I should have spent the weekend mowing the lawn" – by Jon Guymer
After lots of preparation I set off to Yarrawonga for a 4 day event full of expectations of a full and joyful weekend. Hah , was I ever wrong! The Friday trip up there via Goodalls and Cobdens to drop a mast section and get a tiller extension was fine and then on to visit friends in Benalla on the way was good too. Arrived at Lake Mulwala and tented up with Peter from Loch Sport and got our boats sorted a bit in view of a good 4 days sailing and socialising. Wrong again! First night we went to the RSL for tea and pokies [which where so boring] and ended up
on the Playstation thing for 2 hours, That was OK till we
had to go out in the COLD boy was it ever. Every night was
cold but not to worry all else was going fine,so far.
Saturday arrived a bit overcast and cool but with good wind for both races. Race 1 got under way and I promptly hit the start boat and discovered later after a good result that I had been DSQd, Bugger! Oh well on to race 2,all was well to the last work to the finish, i am in 1st place in front of Mick and Lottie in hot pursuit, round the bottom mark I go into a wall of trailer sailors,mostly Timpenny,s on a mission to kill each other or someone else during there States, where can I go but sort of through the middle of them as Mick and Robb tack right and
find clear air all the way to the finish, Oh well there is
always tomorrow!
Saturday night the YYC put on a great meal for us all at the club house and great brekkie fare if we wanted it.
Sunday morn turns out really good again,we all get ready for another days battle on the lake,or so I thought. Just as I was setting up the downhaul on my Mossie the downhaul sheet disappears up the mast much to my angst. So I spend the rest of the day seeing the others having a marvelous time racing while I cobble up a new downhaul system which sort of worked and gave me a giant headache.Of to bed with Panadol in readiness for the Monday Trophy races. I should mention in passing that Robbie Lott won the Division 3 races closely followed by the other Mosquitoes. Great racing.
Monday dawned bright and cold with not a rustle among the halyards all day. We did get to take the little ones out for some fin and practice. Did I mention that a mast fell on my back as I was repairing my boat, does not matter ,it did not hurt ,MUCH! More Panadols.
Monday night was good with chinese smorgasborg at the RSL and more Nintendo to keep us out of the cold night air until bed time. By the bye this is my 3rd restless night in the tent as I TRY to sleep among various noises in the dark including a Irish rendition at 1o,clock in the morning. Not a good thing.
Tuesday the sun comes up and warms our cold bones in readiness for another morning of sailing. Not much breeze so I decide to go home for some rest and repairs as the sailors head out. About 20 of the original 60 plus battle it out for the final placings in a dying breeze of about 6 to 10 knots. Bon Voyage to all for now,see you at the Pond in June
Yours Jon Guymer, Prestissimo 1755.
The Mosquito was the largest cat class present this year when 12 mosquitos turned
up for the event in a fleet of 126 boats. Special thanks to Mosquito sailors Phillip
Watson (Carbon Copy), Garry Johnstone (Touch 'n go), and Ian Vernon (Endaka),
who weren't able to sail as they were helping run the event [so that makes 15
Mosquitos in spirit!].
Race 1 – Ross Bennett borrowed Endaka from Ian Vernon, as he managed to forget
to bring his boat. In a strong breeze Mick and Diane Floyd showed the way, winning
with a gap of three minutes from Robert Lott second, and Gordon and Kate Hyde
third. Glenn Hansford had his New Ashby sail out for its first run, but went
the wrong way too often to keep up with Mick and Di.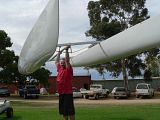 Race 2 – Mick and Di out in front again but were challenged by Jon Guymer second
and Robert Lott third. Andrew Neeson challenging Jon tripped and fell 100m from
the finish line letting Colin McEwan through. Jon got past Robert Lott on the
last leg to beat him by 0.5 of a second. Peter and Tom Cobden broke their diamond
wire during the race causing their nice new mast to collapse and break.
Friday evening was fairly cold and windy. We had a fire in the Mosquito camp
but soon retired to the warmth of the club house where a large group were having
a very social time.
Race 3 – Mick and Di Floyd led from start to finish never really being challenged.
Jon Guymer second and Gordon and Kate Hyde third. Phillip Warren-Smith finished
fourth in his first race on the new boat, sailed cat rigged without a kite as
the boat was being built on site. Robert Lott didn't finish after breaking a
diamond wire, and not wanting to suffer the same result as Peter Cobden. Andrew
Neeson spent a lot of time swimming back through the fleet. Colin McEwan missed
this race due to a wedding he had to attend.
Saturday evening was kicked off with the usual wine tasting session with a
few local wineries followed by a BBQ organised by the club. Then it was back
to the camp fire to listen to everyone's stories from the days racing.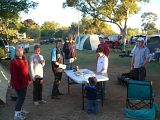 Race 4 – With a dying breeze and a shortened course only 6 mosquitoes finished
with a gap of over 50 minute from first to last. Robert Lott first, Colin McEwan
second, Jon Guymer third.
Race 5 was abandoned due to lack of wind.
On Sunday evening all the ladies put in to make a pot roast, that was prepared
by Di, to feed about 40 people. This was the usual outstanding success.
Race 6 – Tricky conditions with the lead changing several times between Robert
Lott first, Andrew Neeson second and Jon Guymer third with Colin McEwan fourth.
Jon lost his tiller extension on the last gybe before the work to the finish
with a lead of about two boat lengths from Andrew Neeson. John Flower spent
time swimming putting him a long way back in the pack.
Robert
The Eden regatta once again delivered an excellent weekend of sailing.
Six mosquitos took part. Robert Lott (cat) and Philip Warren-Smith (cat-spin) travelled up from
Melbourne with both boats on Philips trailer, Martin van Weel (cat) came from Jindabyne and
Neil Joiner (cat-spin) , Peter Nikitin (cat-spin) and Tim Shepperd (cat-spin) travelled from Gippsland (the locals). The other competition came in the form of Gary Maskiell's F16, a Hobie 16 and four Hobie 17s.
The regatta started with a curious race with winds ranging from zero to 10 knots
on each leg of the course and swinging all over the place as well. The wind swung 45 degrees to
the left 20 seconds before the start so everyone tacked on to port on the start gun and there
followed a drag to the windward mark. Every leg of the course from there on was sailed in different conditions and places changed frequently. By the final windward (tight reach) to the finish Tim was leading Neil but Neil being a bit higher, a slight swing in the wind allowed him to use his spinnaker to reach down to the finish line catching Tim all the way. It was too tight for Tim to use his spinnaker so he had to do the dirty and luff up towards Neil and force him to take his spinnaker down just a few boat lengths from the finish line. The result could easily have gone either way but Tim snuck through first. The non spinnakered Mozzies performed very strongly with Robert Lott and Martin van Weel taking 3rd and 4th overall.
After lunch the second race was held in quite different conditions. A solid 15 knot breeze saw the mozzies leap from the start line, particularly Peter who tore away from the rest of the fleet at an impressive speed. The reason for Peter's free-and-fast approach soon became clear as he drew level with the wing mark and to everyone's surprise rounded it and put his spinnaker up. He soon realised his mistake and set about clawing his way back through the fleet. Meanwhile Tim had made no mistakes in the first lap and was soon holding a comfortable lead. The course was skewed so that the reaching legs were a superb spinnaker blast downwind followed by a very tight traping reach to the bottom mark. Heaps of fun! At times Neil made back a bit of ground but Tim finished the race with a comfortable lead. Peter meanwhile had worked miracles to finish up 3rd overall.
Sunday morning again looked pretty light, but this time a gentle consistent breeze did fill in – enough to need to hike to windward. Once again the reaches were broad followed by tight but in the light winds the spinnakers were able to be carried most of the way. It was bad luck if you got caught in a gust on the second reach as it would take you down away from the leeward mark and would be very hard to escape from. The trick was to avoid the wind on this particular leg of the course. Neil broke away early in this race but Tim spent the next 4 laps gradually pegging back Neil eventually passing him for the final lap. However the glory was short lived and Neil was back in front by the wing mark and hung on to the lead to the finish.
The final race required a big lunch! As we sailed out to the start in the same light conditions of the first race a change came through and suddenly we were enjoying 20 knots plus. There followed an extremely fast and sometimes hair-raising five laps around a starboard hand course. These conditions were very much to Neil's liking and he took an early lead. Even a capsize didn't slow him down long enough to lose a place. Unfortunately the Hobie 16 also liked these conditions and showed us all the way home. Robert Lott once again sailed well and finished 4th overall just behind Tim. Philip Warren-Smith also revelled in the strong winds, flying his spinnaker and finishing just behind Robert. Using the spinnaker in these conditions was interesting, but pretty well took us straight downwind rather than creating apparent wind. Still there's no doubt it was faster to use the spinnaker.
Robert Lott won the traveller's trophy for traveling the furthest to the regatta (beating off tough competition from Sydney). His prize was an interesting piece of ceramic work which Robert will be looking forward to showing everyone at the States.
| | | | | | | | | | | | | | |
| --- | --- | --- | --- | --- | --- | --- | --- | --- | --- | --- | --- | --- | --- |
| Series Place | Sail No | Boat | Type of Boat | Fleet | Owner | Crew | Club | Handicap | Series Points | Race 1 | Race 2 | Race 3 | Race 4 |
| 1 | 1775 | Karma Cat | Mosquito S | 1 | Shepperd, Tim | | Gippsland Lakes YC | 80 | 4 | 1 | 1 | 2 | 3 |
| 2 | 1789 | Immunity | Mosquito S | 1 | Joiner, Neil | | Gippsland Lakes YC | 80 | 5 | 2 | 2 | 1 | 2 |
| 3 | 1786 | Grey Area | Mosquito | 1 | Lott, Robert | | | 84 | 13 | 3 | 8 | 6 | 4 |
| 4 | AUS5000 | Altered | F16 | 1 | Maskiell, Gary | | Gippsland Lakes YC | 71 | 15 | 11 | 4 | 3 | 8 |
| 5 | 6354 | The Cat's My Horse | Hobie 17 | 1 | Disher, Jonathan | | Lake Jindabyne SC | 82.5 | 16 | 7 | 5 | 5 | 6 |
| 6 | 1790 | Bee Alert | Mosquito S | 1 | Nikitin, Peter | | Loch Sport Boat Club | 80 | 17 | 10 | 3 | 4 | 10 |
| 7 | 6359 | Chinchilla | Hobie 17 | 1 | Watkin, Bob | | Canberra Yacht Club | 82.5 | 18 | 5 | 6 | 7 | 7 |
| 8 | 1794 | Air Apparent | Mosquito S | 1 | Warren-Smith, Phillip | | Rye | 80 | 20 | 9 | 7 | 8 | 5 |
| 9 | 1044 | Momentum | Mosquito | 1 | van Weel, Martin | | Lake Jindabyne SC | 84 | 22 | 4 | 9 | 9 | 9 |
| 10 | 105417 | Fly Bye | Hobie 16 | 1 | Evans, Julian | Adam Zissler | Canberra Yacht Club | 81.5 | 25 | DNC13 | 11 | DNC13 | 1 |
| 11 | 6411 | Silk | Hobie 17 | 1 | Riding, Daryl | | Canberra Yacht Club | 82.5 | 27 | 6 | 10 | 11 | 11 |
| 12 | 6242 | HAH | Hobie 17 | 1 | Symons, Tim | | Lake Jindabyne SC | 82.5 | 30 | 8 | 12 | 10 | 12 |
| | |
| --- | --- |
| Westernport Challenge – Peter Foulsom | --- |
97 entrants from 5 Westernport Yacht clubs converged on Westernport Yacht Club at Balnarring Beach for the annual Westernport Bay challenge. 5 Mozzies from Somers (Brian Gristwood and crew Adam Gristwood 1679, Jeremy Pearse 1791, Justin Watson 1737, Peter Foulsum 1048 and Ben Gristwood with crew Ben Coombs 1500 sailing their 1st race), 2 Mozzies from Cowes (Rod Saw 1750 and Andrew Janson with unknown crew 1517) and 1 Mozzie from Merricks (Ian Jeffrey 156) were part of the 30 strong Division 1 fleet.
The race started with an 8 to 10 knot Southerly breeze with an incoming tide running at 5 knots which was always going to make for an interesting windward mark situation particularly when Division 1 was catching other divisions. Varying wind shifts throughout the race and an increase in wind strength on the final lap were always going to make the race an interesting affair.
The Mozzie contingent saw a number of places swapped throughout the race depending on whether you got the right wind shift or not. Final placings were as follows:
Brian Gristwood 9th overall4th in Div 1
Ian Jeffrey12th overall 5th in Div 1
Jeremy Pearse14th overall 6th in Div 1
Rod Saw 15 th overall 7th in Div 1
Justin Watson 17th overall 8th in Div 1
Peter Foulsum 22nd overall 11th in Div 1
Ben Gristwood 49th overall 21st in Div 1
Andrew Janson 68th overall 26th in Div 1
Division 1 was won by an A class, 2nd another A class from Somers with Gary Maskiel sailing F16 Altered 3rd
Regards,

Peter Foulsum