Sauna Sail – Hazelwood Pondage
Now the Sauna Sail is done and the season is really over. Ten mosquitoes made it this year, five with spinnakers and five without. In division 1 with the spinnakers Gary Maskiell took first overall out of a field of 25 cats, and Tim Shepperd made it 1,2 for the mosquitoes. In division 2 Matt Stone took out first place overall and Peter Foulsom and Andrew Neeson were 3rd and 4th respectively. Very good results all round for the Mosquitoes.
The results are here
The Sauna Sail turned on the conditions again for us this year. The weekend began with two semi-trapezing races on Saturday, which were ideal for those that had not sailed since Easter. Enough splash to clean the boat but not too challenging. This was followed on Sunday with two classic Sauna Sail drifters, the second finishing in the dark. Then Monday the wind came back with a 15-20 knot breeze to remind us of what it's all about.
With dinner at the "all-you-can-eat" and sitting around the camp fire and yacking in the evenings a good time was had by all.
Special mention should go to Bill Pepping who after 3 "spinnaker-related" capsizes in the light stuff, figured out the problem and was seen blasting downwind in 20 knots on Monday – what a turnaround!
Sauna Sail 2007 – by Peter Foulsom
The Sauna Sail again lived up to its reputation as a great event with 165 yachts competing over 12 divisions. Some great improvements in the form of an extension of the beach up to the grassed area in front of the yacht club made launching so easy. The typical conditions of clear skies, cold nights with foggy mornings resulting from the temperature difference over the pondage were par for the course on both Saturday and Sunday mornings. Racing on Sunday morning was delayed until early afternoon due to the fog. Race management made the decision not to run a race unless the course could be seen. Sunday night however saw some rain developing around midnight with a cold front coming through.
Campfires were lit and maintained by many groups over the weekend event to try to keep some heat in those colder body parts and jackets and beanies were essential. There were many class and club groups so lots of campfires. The Mosquito group didn't get their campfire lit until Sunday evening due to the customary dining out at the all you can eat café in Morwell on Saturday evening. The Warren-Smiths also brought their caravan along which was a hub for keeping the cold out.
Racing was fierce and competitive with 25 starters in division 1 (cats under 80 rating: F16, Cobra w spinnaker, F18, Tiapans, QB3, Hobie 18s/20s/Tigers, and Tornados ) and 16 starters in division 2 (cats over 80 rating: Mozzies, Hobie 16s/17s, Cobras and Arrow). While the Mozzie numbers were down from previous years, 5 Mozzies with spinnakers and 4 cat rigged Mozzies and 1 sloop rigged Mozzie made the trip to the regatta this year. The sheer number of yachts on the pondage meant that you had to keep your wits about you with many spinnaker yachts tacking downwind calling starboard on yachts reaching in a direct line across to the bottom mark. Congestion at the top mark was always present.
Race 1 was held in around 8 to 10 knots and race 2 run back to back in slightly less wind as the afternoon wore on. Division 1 had a general re-call in race 1 which many chose to ignore thus resulting in a DNS.
Race 3 was re-scheduled from Sunday morning to Sunday afternoon and held in around 5 to 8 knots. Race 4 was run after race 3 while many yachts were already on the beach and starting to pack up for the day. This race wasn't started until around 4:10 pm and was shortened to less than 1 lap as the wind was dying, the sun was setting and light was fading. Race 5 was held as re-scheduled to Monday morning with around 20 knots of wind. The continuous wind shifts particularly around the island at the club house end of the course kept the race interesting for many with positions changing depending on your location and the lift or knock you got.
The Mozzie results from the weekend are listed below:
Div 1
| | | | | | | | | | | | | | | | | | | | | | | | | | | | | | | | |
| --- | --- | --- | --- | --- | --- | --- | --- | --- | --- | --- | --- | --- | --- | --- | --- | --- | --- | --- | --- | --- | --- | --- | --- | --- | --- | --- | --- | --- | --- | --- | --- |
| 1st Immunity | Mosquito 1789 | Gary Maskiel | 2nd Karma Cat | Mosquito 1775 | Tim Shepperd | 7th Splashes Too | Mosquito 1794 | Philip Warren-Smith | 8th Fat Bomber | Mosquito 768 | Bill Pepping | 14th Air Apparent | Mosquito 17XX | Gordon Hyde |   | Div 2 | 1st The Tiger | Mosquito 1705 | Matt Stone | 3rd Out of the Blue | Mosquito 1048 | Peter Foulsum | 4th Veloce | Mosquito 1792 | Andrew Neeson | 8th Hexam III | Mosquito 1801 | Andrew Copland | 15th Another Toy | Mosquito 321 | Trevor Armstrong |
Well done everyone. Great results.
Yarrawonga YC – Anzac Day
Mozzies (6 in all) had 4 stimulating races in great and testing conditions. Ross Bennett "No Turbulence" got the flag with Garry Johnson on "Touch and Go" 2nd on a countback followed by Jon Guymer on "Prestissimo" in frustrating pursuit in 3rd place. About 40 boats appeared for a testing and enjoyable 2 days of racing and socializing. Finns and Tigers were there in force too!
Easter Regattas
The Mosquitoes were busy over the Easter weekend, with 12 boats at Lake Bonney, 5 boats at Lake Bullen Merri, and 5 boats at Paynesville. Here's a quick summary of the results. Take a look at the Mosquito forum for more information.
Lake Bonney
Over 30 boats competed in the 5 race regatta, held on Saturday and Sunday. 12 Mozzies were present on the water, showing the strength of the class at the club which currently has 9 Mosquito's in its fleet, and more planned for next season.
Mark I; 1st. Gary Johnstone, 2nd. Beau DeLaine(by 1 point), 3rd. Steve Thomas.
Mark II; 1st. Peter Dunk and Kirsten Thomas, 2nd. Ian Hughes and crew, 3rd. David Dunk and Jamie
Lake Bullen merri
At a rough count 100 boats turned up at the big crater lake at Camperdown to enjoy a great weekend of sailing and camping together. Cobras and Dolphins ran titles and the rest of us had class sailing. Mosquito`s were only 5 in all but the racing was fierce to be 1st home. No Turbulence (Ross Bennett) was the one to get the winners glass after the 5th race was run. Only 1 point was between the 1st and 2cnd Mozzie. Two boats ran kites and showed what the boats where made of when it came to kite sailing. what a good weekend for all!!!
Paynesville – Gippsland Lakes
A great weekend of Mossie racing . 5 Mossies raced in a mixed fleet with 3 Arrows. Locals Neil Joiner (cat with spin), Neil Maskiell and son (sloop) and Gary Maskiell (cat with spin) were joined by regular visitor Peter Nikitin (cat with spin) and first time visitor Andrew Neeson and daughter (sloop).
On Saturday the Round-Raymond-Island race was run in 10-12 knots and Gary made no mistakes to lead from start to finish (well there was one mistake but he somehow got away with having the mast horizontal under spinnaker!). Sunday and Monday were course racing days with a perfect 10-15 knots on Sunday and a bit of a drifter on Monday.
There were blue skys throughout the weekend and a variety of sailing conditions. Thanks to Andrew who travelled from Melb. to join in and Peter who sailed from Loch Sport some 3 hours to join us. Everybody took home lots of wine as prizes, with Andrew's wife Marg doing well in the 16 strong Sabre fleet. Hope to see more Mossies next year.
Sail Peninsula race – Somers YC
Peter Nikitin from Loch Sport Y.C and Gary Maskiel from Gippsland Lakes Y.C. joined the Somers Yacht Club Mozzie fleet for a club championship race on Saturday 31st March and the re-run Martha Cove Regatta on Sunday 1st April. Bill Pepping from Christmas Hills Y.C. also came back on Sunday for the re-run regatta race.
Saturday saw Peter sailing Bee Alert and Gary sailing Tim Shepperd's Karma Cat (both with spinnakers) join the division 1 fleet of Tornados and A class yachts. The race was run in near perfect 12 -15 knots of sea breeze and a strong outgoing tide. With large clumps of seaweed drifting through the course it became a real obstacle course event. Many yachts had trouble both sighting and missing the seaweed in some lumpy sea conditions and Peter Nikitin capsized after hitting a large piece of weed with spinnaker up. Gary won the division 1 race by nearly 5 minutes corrected time from the resident Tornado leading benchmark with Peter coming in 4th.
Division 2 had 8 Mozzies sailing with the first 5 positions taken by Mozzies. This was the last championship series race which ended up with both Jeremy Pearse sailing Lightning and Brian Gristwood on a re-beamed Risky Business tied on equal points. Jeremy won on countback. The first 3 positions of the series were taken by Mozzies, then a single Hobie 16 then another 3 Mozzies.
Sunday saw the day start with grey skies and glassy water. The Mozzie fleet was to meet at 10:30 am for some on water tuning with Gary but with the lack of wind it turned into a morning of land based tuning, comparing, adjusting, modifying and talking. At around 12:00 pm the sun broke through the clouds and this saw a gentle sea breeze of 8 – 10 knots gather through the afternoon. Just not enough wind to get out on trapeze for most.
Jeremy Pearse and Bill Pepping joined the spinnaker fleet and this resulted in a fleet of 4 spinnaker, 2 cat rigged and 3 sloop rigged Mozzies joined by Hobie 16s, 17s, 18s, F18s and Tornados for the division 1 2:30 pm start and 4 laps of a trapezoidal course. Again there was allot of seaweed to navigate through but the seas were much flatter than Saturdays race and the weed easier to see. Gary Maskiell won the race overall and actually beat one of the F18s over the line. Well done Gary and thank you for your rigging and tuning advice over the weekend.
Twofold Bay YC – Eden Regatta
What a weekend!
Four mosquitos made the trip to Eden, three of them taking a few extra days and making a bit of a holiday out of it. Our division had Gary Maskiell on his F16 and a couple of Hobie 17s. This is down on previous years, partly due to the Hobies having their NSW state titles over the same weekend.
11am on Saturday the first race started in perfect Mosquito conditions – sunshine and a steady 15-17 knot breeze. The triangle-windward-triangle-windward-triangle course was set with a tight reach (trapping all the way) followed by a broad reach which allowed the spinnakers to be used (all the Mosquitos were using spinnakers). Tim Shepperd and Peter Nikitin (both cats) followed Gary from the start line with Neil Joiner and Philip Warren-Smith (both sloops) chasing. Tim was first Mozzie home about half a leg behind Gary. Neil passed Peter at some stage (I missed that). I don't think it would be possible to get a better wind, wave and course combination than we had in this race.
In the second race the wind went further North making it gustier – the lulls were lower but the peaks were higher. The chop also built up with swell close to right angle getting bigger. Gary was first home with Neil working out how to sail the sloop rig and getting the wind shifts to be not far behind. Tim finished clear ahead of a very close finish between Peter and Philip (about 50mm in it according to Peter). Conditions tested most but all survived . In this race Neil was starting to show us what a sloop with a spinnaker can do, and was looking very impressive downwind and up.
These were ideal spinnaker conditions. The boats were being pushed just about as fast as they could go, with the leeward bow pressed well in. The main trick was to stay attached to the back of the boat when the bow dug in a bit harder. Philip and Neil both sent their crews around the forestay to the other side of the boat, and both survived! The forward foot on the back of the centreboard worked well on the cat rigged Mozzies.
For Sunday's first race the wind was gusting to 25 kts, with swell 1.5 m and chop heavy. Again the wind was well north, very gusty and shifty. Gary and Tim led after a port tack start while the sloops where snoozing at the other end of line. Shifts turned the reaches into runs and the returns into reaches. Gary capsized on the first return with the spinnaker up and had trouble getting the kite in the chute, Tim was half a lap ahead by the time Gary got back up. Neil and Peter followed in Gary's wake and went swimming also. Tim was first home followed by Philip with Gary closing fast, Neil next followed by Peter.
Sunday arvo it was time to head to the start. The crews on the sloops mutinied (something about flying around the front of the bows too often), so Neil and Philip where busy pulling bits off as Gary and Peter headed out to the start. Out from the breakwater the wind was howling around 30kts, swell was up around 2.5 m . Gary was the only cat on the line thanks to Peter getting tied up with a Hobie17. The gun went and Gary's traveller rope parted so he decided to head back in as he didn't know how he could sail downwind anyway, Peter followed and they passed Tim, Neil and Philip on their way out . They did half a lap and pulled out as the race was called off. None the less the cancelled race was the one talked about the most. By the way the Mozzies killed the Hobie 17's, usually lapping them.
Tim won handicap overall from Neil with Gary third. Lots of prizes taken home, just a great weekend, it may not sound like it but there is something about sailing on Twofold Bay it is just brilliant.
Thanks to Gary for help with this article.
Sail Peninsula Regatta at Somers
Peter Nikitin and Bill Pepping plus Mozzies along with Gary Maskiel and Altered took the journey to Somers on Saturday for the race event sponsored by Martha Cove. Free polo shirts, key rings, free nibbles after the race and half price drinks.
The forecast was for 10 – 15 knots building to 20 knots. Perfect conditions we thought. At around 11:30 we had up to 20 knots but then in dropped out to a beautiful 13 knots by the 1:30 pm briefing.
At around 2:00 pm most set off from the beach for the 2:30 pm start. During that period the wind started to strengthen. Gary broke another rear beam bolt during the wait and retired. There were a scattering of monohulls already capsized. We all waited for the division 1 start. Others were already retiring.
The windward beat was into a howling wind that just kept increasing to around 30+ knots. Simon Boadle from Somers on Twice Bitten and Bill Pepping on Fat Bomber had already capsized upwind. Simon went through the mainsail. Turning onto the 1st reach there was an unusual sight of cartwheeling cats and it was ultimate survival conditions with big seas, breaking whitecaps and burying the bows up to the beams and beyond.
At the gybe mark for the reach to the bottom mark I had the traveller in and mainsheet pulled in. The gybe was good but in a couple of seconds the chainplate and the stay parted company at the chainplate and that was the end of my race.
Ultimately the race was abandoned. I think it was after the 1st lap but I was really too busy to notice. 2 Paper Tigers broke masts and a 3rd had a nice bend in it. A 420 and Flying Dutchman also had nice bends in masts and 1 470 snapped its mast in not 1 but 2 places. The rescue boats and jump crews had their hands full for a couple of hours and it was a terrific job they did getting all yachts back to the Yacht club safely.
Rumour has it that the race will be re-run later in the season.
Peter Foulsom
Australia Day Weekend – Torquay SC
The Cobden's went to Torquay and Friday's racing was in 10 to 12 knots with a fleet of Hobies 16's, 17's and 18's and we managed two 2nd's. Saturday we arrived at the club to meet Bob Wilson down for the weekend and 30 plus knots and as the day went on it didn't get any better, so the Coast race to Anglesea was postponed to Sunday.
There was only two that ventured out on Saturday, a laser with a small sail and a large skipper and Tom, Janet and I along the beach in front of the club with a Blokart.
Sunday's morning there was two back to back races starting in 10 knots with a largish swell. By the start of the first race the wind was starting to build and by the end of the first race the wind was 25 plus knots. We started mid line and tacked off early and managed to be the first boat at the top mark only to sail off to the wrong mark and drop 6 places but recovered and finish 2nd. The second race was abandoned just after the start with the wind at 28 knots and building.
The coast race from Torquay to Anglesea was not held and there is talk of it being held later in the season, so keep it in mind because it is allot of fun.
The weekend gave us a chance to hone our boat surfing and Blokart skills with three days of sailing. A good time both on and off the water was had by all.
Definitely put this one on your calendar for next year.
Peter Cobden
Go for Gold Regatta – 1/2/3 December 2006
Matt Kirby, Garry Johnstone, Jon Guymer, Mick & Tom Floyd, Rob Lott and Peter Nikitin turned up at Beaumaris Yacht Club bright and early on Friday morning. Peter Cobden had planned to be there but was unable to finish his new boat in time. After setting up our boats on the beach we drove around to Black Rock YC and registered. Back to Beaumaris for an early lunch then it was on the boats for the short sail to Black Rock for the 3 Friday races starting at 1200 hrs. 2 hours later after drifting slowly around the corner we arrived at the start area! We were in time because racing had been delayed due to the lack of wind. We completed 3 races in a light breeze that was gradually filling in as the afternoon wore on. At the first start there was an individual recall. Peter restarted, Mick was scored OCS. Garry won the race with Rob second. Race 2 saw Peter get up for a win and Garry take second place while race 3 was won by Rob with Peter second. Jon, Matt and Mick & Tom were all close but couldn't get the better of these 3 on the day.
On Saturday Andrew Neeson had joined us making 7 entries but it was a bit windy and as we are all a bit old and decrepit (read slack) we decided not to sail in the morning when 2 races were scheduled. In our defence it was pretty cold, very windy (20+ kts) and big waves. The forecast was for the wind to moderate early afternoon so we waited it out. After lunch it was worse. Mick & Tom and Matt went out for a short sail to test the conditions and found that it was wet, windy and cold with enormous steep seas. As it turned out the morning races and one of the afternoon races were run.
Sunday morning everything was looking good. Nice breeze, bit of sunshine and bunch of enthusiastic Mossie sailors headed out to the start area. After spending an hour watching the competitive fleets in front of us having multiple general recalls we were feeling a bit less enthusiastic but once we got off for the first start conditions were pretty good. There was still a big lumpy sea but the wind was about 15 kts probably building to 18 by the 3rd race. The first race saw the only sloop (Mick and Tom) get into top gear and they won the race from Peter. In he second race Andrew put in a blinder of a last downwind to the finish to win the race from Mick & Tom with Garry a close third. The results actually have Garry second which he nearly was as it was very close between him and Mick coming to the finish until Garry got caught by some Lasers coming upwind forcing him to luff up and stop. The third race of the day was the windiest and again Mick & Tom on the sloop led the way from Garry which is how they finished. Unfortunately Peter and Andrew collided on the downwind leg of this race amongst the heavy traffic with Andrew's boat coming off worst with severe damage to the bow of one hull.
This accident put a bit of a damper on an otherwise excellent weekend. The sailing was very close (as shown by the results) and was very good practice for those heading off to Christies for the Nationals. Black Rock YC did an excellent job running the racing. Beaumaris YC also deserve a special mention for their hospitality throwing their club open to us for the weekend. It was much easier launching from the beach rather than battling for a spot in the car park and on the boat ramps at Black Rock.
Results on BRYC web site
Victorian Catamaran Championship – McRae
McRae turned on the usual exhausting conditions once again this year. Rob Lott, Andrew Neeson, Philip Warren-Smith, Peter Cobden and Tim Shepperd took part and will all be nursing sore limbs for the rest of the week. It was probably the physically hardest event since the Cat Championships at McRae last year.
On Saturday, the wind swung 90 degrees before the start so the waves were coming from two different directions. It was hard just to avoid being thrown off the boat. The race started out windy and just kept getting stronger. By the end it was howling and the start crew finally decided to call it a day. A weather station just down the bay was recording an average of 25 knots while we were racing!
On Sunday the wind was slightly down on the previous day, but being SW it was coming off the land and was shifting 20 degrees and sometimes more. The wind was also full of bullets – you know the sort that flip your cat end-over-end when you have the spinnaker up.
The course was triangle, windward-leeward, windward-leeward, triangle, so in this kind of wind there was only a limited amount of spinnaker work. There were times when we could put up the spinnaker on a reach but you always had to be ready to get rid of it again.
There was a hell of a lot of swimming going on in all the classes. Like Saturday the conditions just got tougher as we worked through four races.
One very tough weekend. I'm sure I'm still going to be aching all over by next weekend.
Before we started I toyed with the idea of leaving the spinnaker off and sailing off the easier handicap. I'm glad I didn't though. I would have got a better result for sure but I would also have missed out on enjoying those brief but "elecrifying" downwind legs.
Tim
Lake Bonney Opening day regatta
Thirteen Mosquitos raced at the opening day regatta, six making the trip from Victoria.
Unfortunately Saturday didn't bring any wind, but we managed to drift around a single lap of a course which ended up being a windward leg followed by a windward leg followed by a windward leg followed by a short tight reach to the finish (and yes we did end up at the same line that we started from).
Sunday made up for this with almost perfect conditions. The downwind start led to some competitive action at the left-hand end of the line, where two boats sailed each other over the line early and another was forced the wrong side of the buoy.
In the afternoon race the legs were mainly tight reaches and the wind had built and become more gusty. This suited the non-spinnaker boats well who enjoyed a fast (if not very tactical) race. Those with spinnakers were tempted into putting them up in the lulls only to be blown off the course in the gusts – not a good race for a spinnaker.

The most challenging aspect of the courses was reading and understanding the map in the first place and then remembering it. I'm told this kind of brain exercise is good for warding off Alzheimer's.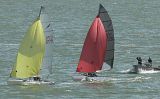 On Sunday morning I had the rare pleasure to launch early (yes that is rare for me!) before any wave action had started on the lake. Sailing in 12 to 15 knots on a mirror smooth surface upwind on trap and downwind under spinnaker in almost complete silence is a very strange experience indeed.
The members of Lake Bonney YC have been very busy over the winter working on their clubhouse and facilities. We could tell that they are (very rightly) proud of what they have achieved. The visitors were all made very welcome and we also appreciated the excellent grass rigging and launching area and close by accommodation.
Tim
Lake Bonney YC web site:
Also take a look at the VMCA photo album.
Mosquito training weekend
The Mosquito training weekend of 16th and 17th September was attended by a small but enthusiastic group of sailors and friends. 3 Mozzies from Somers, 2 from Gippsland Lakes and 2 in spirit with owners Peter Nikitin (busted knee) and Gary Maskiel (guru and coach) attending, 1 from Beaumauris with kids attached and Minnow (guess who) and 1 late comer from Warneet and another in spirit from Hazelwood attended the event.
Whilst there was a lot of time spent talking, checking, modifying, adjusting and comparing there was also some time for training and tuning on the water. Mal Otto from Somers in his first outing on his new purchase "Itchy" even had a capsize in one of the gusts. It appears that the mainsheet had self cleated so it was a cristening event for Mal.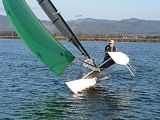 When the wind had dropped in the late afternoon it was time for pitching tents and thinking about our stomachs. Our convoy of cars ended up in Morwell at a $9 all you can eat restaurant/eatery. I don't know how we got there and couldn't find it again but it was real value for money.
After a campfire back at the pondage, a few beers, some more Mozzie discussions and some chocolate bars (thanks to Gary) it was off to bed. Funny that it only seems to get windy there at night.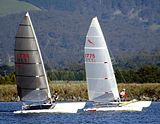 Sunday morning saw the typical Hazelwood fog and no wind so it was back to talking, measuring, adjusting, modifying, drilling etc. Hazelwood had a race scheduled for the afternoon so there were a number of yachts arriving throughout the morning and into the early afternoon.
Those who stayed for the race enjoyed the strongest winds of the weekend (a solid 15 knots with gusts), and for some a swim or two. LVYC set an interesting course with three separate loops which were to be completed in any order, which caused some interesting anomalies during the race. While some raced others just went out and enjoyed the sailing.
Thanks to all those who came along and made it a very enjoyable weekend for all.
Peter Foulsom