Follow the links to the right to read about the regattas attended by Mosquitoes in previous seasons.
Sauna Sail
9th-11th June 2012
Once again, not much breeze but enough to get the bum over the side occasionally and fit in four races on Saturday and Sunday. Monday had the best breeze but not until the time limit for the start was up, so no racing on Monday. Saturday night a spectacular roast was cooked up by Di Floyd and her assistants, with sticky-date pudding to follow – ahhhh! Thanks Di.
Gary, Matt and Daniel sailed in the cats with spinnaker division, against Vipers (including defector Mick Floyd) and F18s, while the other eleven Mosquitoes sailed in their own division. Gordon Philip and Trevor all decided to take the handbrake off this weekend and left their jibs at home. They decided after the weekend that Mk1 sailing is too easy and will be putting the jib back on in future.
The following is a blow-by-blow account of what went on in and around the front of the Mosquito division. Maybe someone else can fill in what happened elsewhere.
There was some confusion in the first race Saturday. An obviously port-hand course was laid but the committee boat had the green flag up! The majority of the 150 boats decided the flag was a mistake (or just didn't look) and sailed a port hand course. Tim and Neil set out to do a starboard hand course but through the ensuing confusion ended up deciding to sail a port hand course anyway. Simon and Stephen stuck to their guns and sailed a starboard hand course but somehow managed to make it shorter – something went wrong there! Trevor managed to keep focused through all this and lead Peter to the finish line – although Peter started another lap instead of finishing which allowed Neil and Tim to slip through.
The second race was Peter's and Philip's to begin with but Neil and Tim were pushing hard. Tim was able to point too high for Neil & Philip and found a way through while Philip fought off the challenge from Neil. Meanwhile Peter made no mistakes and crossed the line first. 30 seconds separated each of these four boats with Trevor only 7 secs behind Neil and Gordon only 15 secs behind him!
Sunday morning, the fog cleared as we headed out to the start. There was just enough breeze to cross the line when the start came. A small puff just before the start was enough to push Tim over the line too early. After re-rounding the start boat through the midst of the lasers lining up for their start (how could there be enough room for a Mosquito to get through?) Tim then sailed in a private breeze straight past the fleet to reach the top mark first, leading Peter down the first reach. At the wing mark the wind died and the fleet piled up, Peter sneaking through now in front of Tim and Trevor. The second reach turned into a beat and this time Trevor had the opportunity to sneak through between Tim and Peter, but Peter managed to recover and round the final mark just ahead of Trevor. On the long starboard tack to the finish line Trevor and Tim sailed over the top of a frustrated Peter to finish 1,2.
Sunday afternoon was the best breeze and the only race run with the full three laps. This quickly turned into a competition between Trevor Peter and Tim. Halfway through Trevor was a 100m or so in front and Peter and Tim were side by side on the run discussing how to catch Trevor. Well, Trevor had other ideas and continued to extend his lead to end up winning with the biggest margin of the weekend. Tim stole 2nd from Peter with a final tack to the far wall just before the finish line, which ended up reflecting the final overall placings – Trevor, Tim then Peter. Well done Trevor.
Gary and Matt finished 1st and 2nd respectively in the spinnaker division (11 boats) with Daniel a point behind a Viper in 4th. Once again LVYC forgot to drop a race from the results, but this didn't affect the divisions with Mosquitoes in them very much (bad luck for division 3 though!).
Tim 
| | | | | | | | | | |
| --- | --- | --- | --- | --- | --- | --- | --- | --- | --- |
| Place | Sail No | Boat Name | Skipper | From | Sers Score | Race 4 | Race 3 | Race 2 | Race 1 |
| 1 | 1805 | JUST A TOY | Trevor Armstrong | SLSC | 8.0 | 1.0 | 1.0 | 5.0 | 1.0 |
| 2 | 1775 | KARMA CAT | Tim Shepperd | GLYC | 9.0 | 2.0 | 2.0 | 2.0 | 3.0 |
| 3 | 1790 | BEE ALERT | Peter Nikitin | LSBC | 11.0 | 3.0 | 3.0 | 1.0 | 4.0 |
| 4 | 1520 | AIR APPARENT | Gordon Hyde | RYEYC | 20.0 | 4.0 | 4.0 | 6.0 | 6.0 |
| 5 | 1802 | TOTALLY… | Tom Floyd | BEYC | 25.0 | 6.0 | 5.0 | 7.0 | 7.0 |
| 6 | 1794 | MORE THAN A SPLASH | Philip Warren-Smith | RYEYC | 26.0 | 5.0 | 13.0C | 3.0 | 5.0 |
| 7 | 1135 | SNAP | Jonathon Lyons | SLSC | 30.0 | 7.0 | 7.0 | 8.0 | 8.0 |
| 8 | 1789 | IMMUNITY | Neil Joiner + David | GLYC | 32.0 | 13.0C | 13.0C | 4.0 | 2.0 |
| 9 | 1762 | HAKUNA MATATA | Samuel Lyons | SLSC | 43.0 | 8.0 | 9.0 | 13.0F | 13.0C |
| 10 | 1819 | CHAT BLANC | Simon Clavin | MCCYC | 45.0 | 13.0C | 6.0 | 13.0C | 13.0F |
| 11 | 1704 | BETTERLATETHANNEVER | Stephen Berryman | MCCYC | 47.0 | 13.0C | 8.0 | 13.0C | 13.0F |
State Titles – Lake Boga YC
10th-12th March 2012
The State Titles are history now. We went expecting shifty and probably light winds and that is exactly what we got! Despite the trying conditions Lake Boga YC's race crew managed to find enough moments with wind to fit in a series.
Shannon Wilson and Neil Joiner both retained their State Title crowns, Neil being crewed by Anthony Warren-Smith.
2012 State Titles results
Photos
8th Spinnaker State Titles and Cat Champs
Thirteen Mosquitoes sailed at the McCrae Cat Champs this year, 7 with spinnakers and 6 without. It was a very tough weekend with 6 races sailed in some pretty rough conditions.
Mick & Sarah Floyd dominated the Mozzies without spinnakers (who were sharing a division with the Hobie 16s). With two wins and four 2nd places Mick & Sarah ended up second overall behind Cam Owen on a Hobie.
The Mozzies with spinnakers found the waves and strong winds a challenge. There was one dis-masting and two capsizes just during the first downwind leg (an embarrasing reminder to the Stone brothers to tighten up shackles – especially the one holding the mast up :). Through it all Gary Maskiell managed to finish first in five races (even though he was not exempt from the occasional swim). Not surprisingly this made Gary the clear winner, and as the winds became ever more extreme on Sunday Matt ended up sailing the final race by himself to secure 2nd place overall from Neil & David Joiner.
Thanks to McCrae for running the series in 'difficult' conditions. The rescue boat crews were like drowned rats after spending all day Saturday in the pouring rain and strong winds.
Loch Sport YC – Cat Challenge
I had a good day at Loch Sport Cat Challenge and thanks to Pulse Credit Union, came away with the winners cheque for $100.

Matt Stone pushed me all the way but, never passed me after I passed him shortly after the start. Course was very fast, lots of reaching, without spinnakers as wind was gusting around 20knots+ in parts

. Didn't notice the rain too much

as there was so much spray around

. Local knowledge meant Pete headed straight for the out of sight marks, but Matt and I managed to head for where he was pointing and stay between him and the marks, sorry Pete

.
Had good time at the BBQ Saturday night, Great Steak

, plenty of old sailors around, talking about the old days, shown some amazing footage of some of the crowds on the beach at local events in the past, Ski Races etc. Chatting with "Duck" DeLange about the cross over of sailing families we have known since the 60's and other Yvonne sailors, looks like we may have to watch out for the Yvonnes in the future, they have reduced minimum weight to 110kg I think it was :o, so they are all pulling out lead and the antique furniture

.
Thanks to Pete for a great weekend

, unrivalled hospitality as allways. Topped it off with a good sail at home in Paynesville on Sunday in even more wind


.
Gary
Masters games 2011
Six Mozzies had the pleasure of 7 races at Adelaide sailing club in October. It started with the ASC opening day race in a fresh breeze and lumpy sea and the wind strength gradually dropped as the week progressed. As the wind dropped the current became more interesting!
As usual the Mozzies enjoyed themselves. A few reds and whites were consumed and a USB-stick-measuring competition was conducted – which Peter won convincingly!
Tim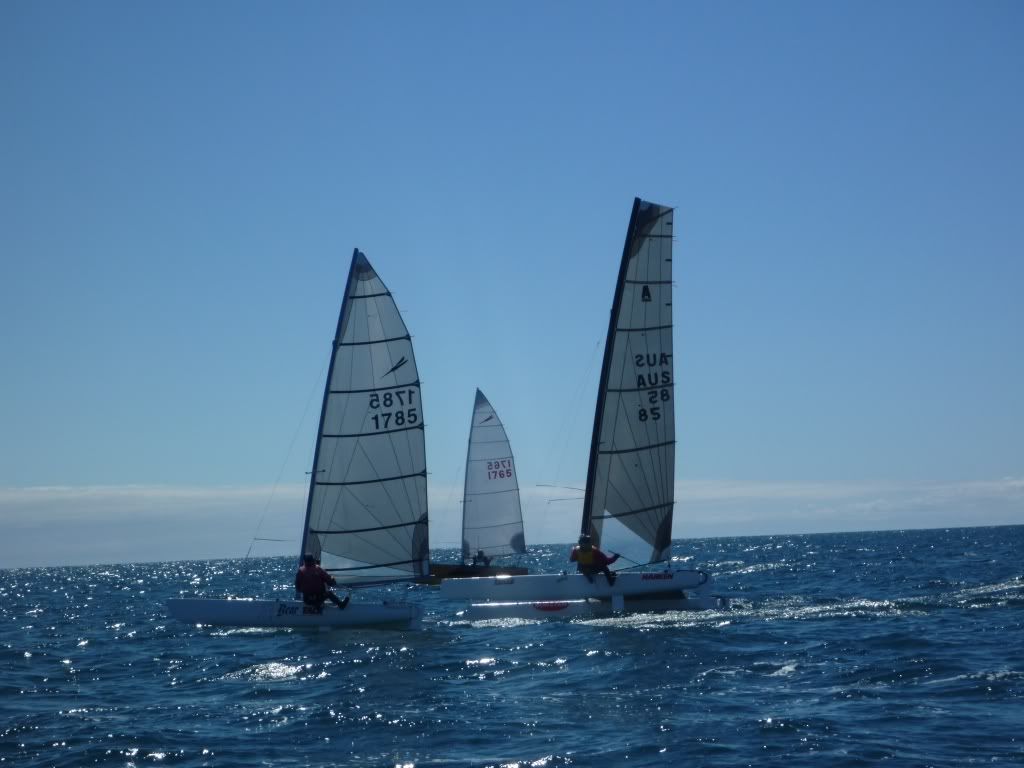 Bendigo YC – Icebreaker
From my perspective, it was a great weekend, PLENTY of wind on Saturday followed by 1 light race Sunday morning. 17 Mossies turned up in all, with Mick and Sarah taking the home ground advantage. They were untouchable in the big winds on Saturday. 4 Spinnaker boats were dotted through the results which looks to be a good prelude to the states at the Cat Champs.
I did better than expected with Eliza my new crew at her first regatta and getting used to using the Spi – we both made some good errors. My most noticable – The first was lacing the Spi halyard into the Jib / bridle, couldnt work out why the thing wouldnt go up

– and the first rounding of the gate mark, My sincerest apologies to the new Mossie sailor I shoved out of the way

Plenty of well tired people Saturday night (I for one had to bow out by 10:00pm). It will be on my list for next year – Just need to get the wind to change further to the south so we can get a course that the spectators can see.
Well done Bendigo Yacht Club.
Trevor