If you were wondering what that font is or how to get the mosquito logos or lettering for your boat, sail, car, caravan etc. here is the information you will need.
Having the word "MOSQUITO" in the Dodger font appearing on boats and sails has made a big difference to the recognition of the boat by non-Mosquito sailors – and it looks good as well.
The Dodger font
This is the font used for the lettering you will see at the top of this page, down the luff of Mosquito mainsails, and on the sides of many Mosquitoes between the transom and the rear beam.
This is a freely available true-type font created by Dan Zadorozny (http://www.iconian.com) which you can download here:
Mainsail lettering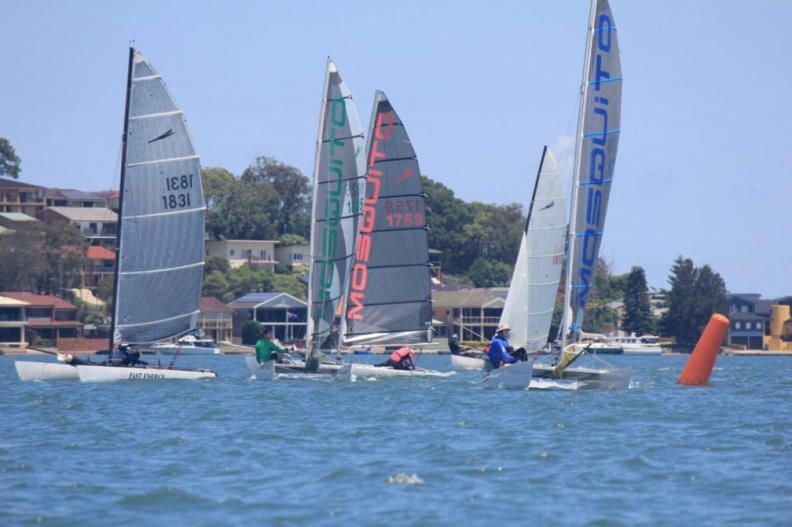 The easiest way to get this lettering done is to ask your sailmaker to apply it to the sail. You may save a few dollars by applying it yourself if you are reasonably confident applying large stickers.
Lindsay Irwin sells the complete set for around $180 – in a colour of your choice.
Dimensions – coming soon!
Boat stickers
As previously mentioned, many Mosquitoes have the word "MOSQUITO" in Dodger font on each side near the transom. This is usually in a mid-to-dark grey, although this varies a little, especially for boats that are a colour other than white.
Dimensions – coming soon!
Mosquito logo
Below is the latest version of the logo. This is a high-resolution image which you can download and use to get stickers, T-shirts etc. made up.