1978
July 1978
NT Mosquito Association
The Northern Territory Mosquito Association has a regular fleet of 16-20 sailing every Sunday with Darwin SC. The club's most interesting race recently was the Back to Darwin Trophy over an inner and outer triangle on a timed handicap system with all the keel yachts and cruisers starting first followed by trailer-sailers and off-the-beach boats at regular intervals. A big crowd watched from the cliffs. An Arrow won followed by Dave Parmenter's Mosquito Double Barreled – only a minute behind after starting 15min behind the winner.
Cat Week and the national titles will be held at Darwin in August. Arrow and Arafura Cadet nationals will also be held during Cat Week. For further info on getting to Darwin, write to Dave Parmenter c/o GEC Aust Pty Ltd, Box 38821, Winnellie 5789.
Mosquito Assn of NT office bearers, recently elected
President, Rick Setter
Secretary/Treasurer, Dave Parmenter
Vice President, Brian Woodrow
Publicity, Paul Herrlck
Handicapper, Ted Fowler
– Paul Herrick
August 1978
SA Mosquito Association
Having hosted the 1977 Nationals (Christies Beach SA) which was won by Mike Lane (Super Snoopy), with sister Wendy crewing, the Association is expecting increased competition during the coming season. Many cats have changed hands, and many more are being built. A large group building scheme is under way at Christies Beach.
The 1979 State Titles will be held at Port Lincoln, SA over the Xmas/New Year period and many new Mosquitos are expected to appear, thus swelling the ranks of this popular racing cat even more. The 1978 Mosquito Nationals are to be held in conjunction with "Cat Week" in Darwin during October. – Terry Bailey
September 1978
Hazelwood 'Sauna Sail' Regatta
The 1978 Hazelwood 'Sauna Sail' regatta, conducted by LaTrobe Valley Yacht Club and held on an SEC cooling pondage near Morwell in Victoria, suffered badly from poor weather. The regatta, annually one of the biggest in Australia for dinghies, last year attracted more than 400 entries. But this year bad weather (there was severe flooding throughout Gippsland) sent many home before the first race. Despite this a large and varied fleet of 353 entries still completed the four races. Race One was canceled on Saturday afternoon when pouring rain and winds in excess of 30 knots made conditions unsailable.
Those who stayed found the next day, despite early drizzle, to be good for sailing. Race two was contested in winds below 5 knots, and Race three in 5 to 10 knots. The large contingent of multihulls in the fleet sailed a bigger triangle than the monohulls, avoiding the chaos of previous years events. On Monday, officials decided to resail Race one in the afternoon in conjunction with the normal event, the Champion of Champions race. The morning race was held in light breezes, less than 5 knots, and the famous early morning mist over the pondage. In the afternoon, conditions were similar, with winds less than 10 knots again. Despite poor weather, the LVYC did an excellent job running the series. Strongest representation among monohulls came from Fireballs, 125s, and Sabres. Multihulls had large fleets in Paper Tigers, and Tornados.
Results:
Champion of Champions Race:
Junior Division: R.Eaton, Sabot, Royal Brighton YC.
Monohull Division: B. Morrison, Swinger, Safety Beach YC.
Multihull Division:G. Hyde, Mosquito, Rye YC.
– Robert Keeley
October 1978
Northern Territory Mosquitos
Dave Parmenter /Mark Setter, sailing Barrelled, won the Northern Territory Mosquito championship scoring four firsts, a second a third. Second place went to Rick and Christine Setter on Wave Dancer – they were handicapped in the blows as Christine is 12 and weighs next to nothing. Third was Oro (Paul White/Lindy Marchant). The series was robbed of a close battle for third when Joe Cool (Lionel and Robin Crompton) collided with Haras (Harry and Raelene Stephens) in the second-last heat. Both boats were badly damaged and were forced to withdraw from the last two heats. The conditions for the series, sailed over two weekends, were testing with winds ranging from drifters to blows.
1, Double Barrelled (D. Parmenter /M. Setter), 1-2-1-1-3-1-2, 6 pts;
2, Wave Dancer (R. and C. Setter), 2-1-6-3-2-3-3, 23.1;
3, Ororo (P. White/L. Marchant) dns-5-4-2-dnf2-1, 43;
4, Joe Cool (L. and R. Crompton), 53-3-8-1-dnf-dns, 54.4;
5, Mistral (S. and J. Vital, 4-4-7-7-4-6-5, 58.7.
November 1978
Darwin's Cat Week and National Cat Titles
The national titles for four classes of catamaran were held on Darwin's Fannie Bay in conjunction with Cat Week 78. Competitors from all States and Papua New Guinea took part and although the Isolation helped to keep numbers down, there were still approximately 100 boats competing. Wind strengths really tested the sailing ability of the competitors as they ranged from a fickle 2-4 knot zephyr to a consistent 20-25 sea breeze. The obvious difficulties in running national titles, a separate series for those not competing in nationals and a Cat Week series all in 10 days, were overcome by very well organised arrangements both on and off the water. Racing was divided Into two series of events; the first, of six races (best five to count) constituted national titles for OB2s, Mosquitos, Arrows and Arafura Cadets, while the other classes competed for nominal North Australian trophies. The second series of five races, with all to count, was the Cat Week series.
Harold Stevenson's effort in winning 11 out of 12 races on his A Class catamaran, Rhapsody proved that he is still the undisputed master of this class. In the Mosquito Class Mike Lane's only minor placing in a string of wins occurred when he lost his crew overboard, subsequently had to deliberately capsize to refasten the lashing at the head of the jib, then sailed on only to be beaten by a mere 20 seconds.
In the national titles, Pink Catylist (Rohan Brownlee/Philip JOhnson, Vic) won the OB2s in a hard-fought series from Breakfast Plus Ten (Ian Johnson/Steve Smith, Vic) with Achilpa (Terry Hord/lan McManus, NSW) third. South Australian Mike Lane recruited Barry Fowler of Darwin, son of the designer of the class, to win the Mosquitos with a perfect score. Keith and Sue Russell from Victoria sailed into second place after a collision in an early race left their boat lacking several feet of bow. The boat was back in the water for the afternoon race that followed, after rapid repairs by a lot of willing hands led by local skipper Paul White. Wave Dancer (Rick and Chnstine Setter, Darwin) was third. Graeme Bunney (Old) with consistency, won the Arrows from John Goven (Vie) with Jim Cox (Old) third. This fleet was notable for its wide age range – from under 15 to over 50 years. No southern boats contested the Arafura Cadets, won by Jonathon Bateman with five firsts and a second from Michael Gabel with David Bridgland only another two points behind Gabel, third. All three are graduates from Darwin SC junior sailing classes.
In the North Australian championships, Stingrays finished first and second in the Open 18ft class (raced to VYC yardsticks) with Gemini (Rodney Moyes, NSW) winning convincingly from Cloud Nine (Bob Bakewell). Harold Stevenson with six wins took the A class, Current national champion Phil Smythe (WA) won the Hobie 14s. Maricats dominated the Open 15ft class with Darwin's Craig Garrett the winner
In the Cat Week series, the Open 18 fleet was boosted by the OBs for the closest racing of the regatta. Achilpa won from another OB2 Pink Catylist by only .3 of a pOint with the Stingray Gemini third. In A class. Harold Stevenson was beaten by Allan Boyle (Old) in the first race then won four straight to take the class prize from Boyd with D. Breeze (NSW) third. Mike Lane, with boat speed that astounded his rivals, easily won the Mosquito class from Dave Parmenter and Mark Setter (Darwin) with the husband and wife team Lionel and Robyn Crompton (Darwin), third. Darwin's Richard Denton won the Arrow series from Ted Fowler in a new boat with G. Powell (NSW) third. Phil Smythe won the Hobie 14s from Darwin Hobie agent John Kempins with N. Crough (Darwin), third. Jonathan Bateman again won the Arafura Cadets in a keenly fought contest from Bridgeland and Gabel.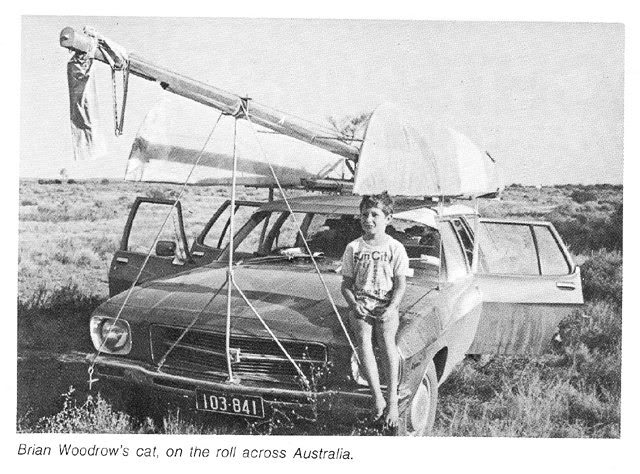 ---
1979
April 1979
NSW Mosquito Titles
The NSW Mosquito Catamaran titles at St Georges Basin became a contest between three boats for the title following the retirement of Greg Curtis (Water Cooled) in heat one. Curtis set the pace in the invitation race with an impressive win in a strong breeze and was holding a commanding lead in the heavy-weather first heat when a fitting failure cost him his mast and any chance of retaining his State title.
With Curtis out, SS Rubber Ducky (F. and D. Glass), Goldrush (B. and M. Wyers) and Catapult (R and G. Rhodes) maintained an almost complete stranglehold on the first three places in the four heats. Only Gollum (R. Crawford and B. Chapman) and Endless Summer II (W. Jauncey), were able to get a show in the results, both scoring thirds in heats one and two respectively.
An almost complete gambit of conditions was experienced.
It was pleasing to see the high proportion of family units among the sloop-rigged Mosquitos, including husbands and wives, brothers, brother and sister, and fathers and sons. The cat-rigged boats failed to match the consistency of the well-sailed sloops, although on some legs they showed superiority The top cat-rigged boats finished fourth, fifth, seventh and eighth. Sails showed a variety of shapes and control systems. Water Cooled had flat Burke sails which went so well in the strong conditions. Rubber Ducky carried a well-cut fairly full set of Herrick sails, as did most of the top ten. Only Dorrington (third and fourth), and Endless Summer's home-made sail broke Herrick's grip on the top boats. Developments in shape controls, and powerful leeches made trapeze work necessary in relatively light conditions while in heavy conditions combinations of reducing diamond tension, rotation adjustments, and wider traveler settings enabled boats to reduce power and continue to accelerate through the squalls. – Bill Jauncey
1, S.S. Rubber Ducky (F. Glass), 3 � pts;
2, Goldrush (R. Wyers), 4 � ;
3, Catapult (R Rhodes), 53/4;
4, Zzzzz (P. Battley), 13;
5, Endless Summer 11, (W Jauncey), 14;
6, Fever (P Hill), 17;
7, Cheeta (M. Lotze), 19;
8, X-Facta (D. Hindmarsh), 21;
9, Zanzara Too (I Bennet), 22;
10, Gollum (R. Crawford), 25.
June 1979
Victorian Mosquitos
The Victorian Mosquito catamaran championship was held at Mt Martha YC with 55 entries – 20 cat rigs, 35 sloops. The racing was extremely close, in generally light, variable winds, with both classes decided on the results of the final heat.
Sloop rigs: 1, Aquarius (Gordon Hyde/ Jenny Petrie) 8.7 pts (on a countback);
2, Hustler (Ken Lott/Greg McKenzie) 8.7;
3, B-ZZ (Joh Luxmore/lan Walton) 48;
4, Sunny (Ken and Steven Pitt) 49.
Cat rigs: 1, Jeff Bapty 8.7 pts;
2, Hamish Sinclair 20;
3, Jim Boyer, 22.
November 1979
Mosquitos Can Travel
The Travellers' Trophy for NSW Mosquito cats will be held over four regattas, best two races to count from each regatta. Events are Pittwater (Nov 24/5): Kurnell: Botany (Feb 23/4) excluding Cock of the Bay; and Port Kembla (Mar 1/2), on the north shore of Lake Illawarra in a new clubhouse 1 km to the west of the old one.
There will also be a south coast series if there's enough interest, covering the following regattas: Port Kembla, Oak Flats, SI. Georges Basin, Sthn Highlands if possible (maybe Bateman's Bay).
Details from secretary D. Hindmarsh (042) 341468
December 1979
Revised VYC Yardstick
The new Victorian Yachting Council Yardstick list, showing the relative performance of each class for handicapping purposes, has all figures increased by 20 per cent to bring them into line with the Royal Yachting Association's Portsmouth system. It is interesting to note classes that are exactly equal in both systems are: Fireball, Mirror, Solo, 505, Finn, Optimist and Javelin. And there is only a point's difference for GP14, Laser, Hornet, Pacer Heron, OK Dinghy and 470.
Administrators should note two changes that have already been made since the yardstick's release: The correct A class catamaran primary figure is 80 and the Griffyn cat, 110. The original A-class figure of 83 was an anomaly alongside the Graduate cat at 80 as the Graduate qualifies and races as an A class in Victoria. So the two had to be brought together. The 12ft Griffyn cat made only a late appearance in Victoria and impressive performances led to the change from 120 to 110. The Wind rush 14 catamaran has a rating of 100 as a cat rig and 102 as a sloop sailed two-up. The man responsible for the yardstick, Jack Leevers, says last year's provisional figure of 80 was simply a mistake. More results had become available to give a better measure of performance. Although only one 145 raced regularly in Victoria last season, it showed potential – the class figure was based on the Bradmill Two-of-aKind regatta in Sydney. The Laser II and Micron III figures were also based on NSW performances. – Rik Dovey
Class
Primary
Secondary
Provisional
Aquanaut
 
155*
 
Avenger
 
 
134
Bosun
 
 
128
Cadet – International
 
 
154*
Cherub
110
 
 
Contender
107
 
 
Corsair
115
 
 
Delta
156
 
 
Fairy Penguin
156
 
 
Finn
110
 
 
Fireball
103
 
 
505
97
 
 
Flying Ant
138
 
 
Flying Dutchman
90
 
 
Flying I1
 
 
133
Flying Junior
121
 
 
420
 
120*
 
470
 
102
 
14′ Dinghy
91
 
 
G.P.14
118
 
 
Gwen 12
 
115
 
Heron
 
145
 
Hornet
 
 
104
Impulse
119
 
 
Javelin
100
 
 
Jollyboat
 
 
104
Laser
113*
 
 
Laser II
 
 
108
Laser M
 
126
 
Lazy E
113
 
 
Micron 3
 
 
128
Minnow
167*
 
 
Miracle
 
 
130*
Mirror Dinghy
146
 
 
Mirror 16
 
116
 
Monarch
 
106
 
Moth
115
 
 
N.S.14
111
 
 
Northbridge Jnr.
 
164
 
Nova
 
 
108
O.D.11
 
 
139
OK
119
 
 
125
120
 
 
145
 
 
112
Optimist
 
 
176
Pacer
127*
 
 
Rainbow
121
 
 
Sabot
168
 
 
Sabre
128
 
 
Sailboard
 
 
116
Sailfish
133
 
 
Sailfish Cadet
 
152
 
Sandpiper Cadet
 
 
143
Seafly
 
117
 
LW. Sharpie
93
 
 
Signet
 
146
 
Sparrow
144
 
 
Skate
 
 
104
Solo
 
122
 
Swinger
 
142
 
Tasar
109
 
 
Vagabond
 
 
145

---

"A" Class – including Australis
83*
 
 
Arafura
111 *
 
 
Arrow
93
 
 
Attunga
 
 
98
Caper Cat
 
 
112
Cobra
87
 
 
Dolphin
83
 
 
Elwood Jnr.
109
 
 
Graduate
80
 
 
Griffin
 
 
120
Hawke
 
 
115
Hobie 14
94
 
 
Hobie 16
84
 
 
Hobie 18
 
 
77
Hydra
 
86
 
Kitty Cat
93
 
 
Maricat 4.3 – Cat
 
100*
 
Maricat 4.3 – Sloop – Two up
 
 
102*
Maricat 4.0
 
 
112
Mini Quest
93
 
 
Mosquito – Cat
82
 
 
Mosquito – Sloop
85*
 
 
Nacra 5.2
 
 
75
Paper Tiger
90
 
 
Quest B2
75
 
 
Quickcat
93
 
 
Sol Cat 15
 
 
95
Sol Cat 18
 
 
85
Solo 16
 
88
 
Stingray
 
 
77
achos
88
 
 
Tornado
70
 
 
Tyro
 
124*
 
Wind rush 14 – Cat
 
100*
 
Windrush 14 – Sloop – Two up
 
 
102*
Windrush 12
 
 
122*
Yvonne
 
84
 
---
1980
April 1980
R2D2 is best Mosquito
Defending champs Ray and Dianne Glass sailing R2D2 won the NSW Mosquito States at Kurnell over the January long weekend. Second were R. Wyers and M. Curran (Goldrush), and third the Ropers on Mystery. The three winners were sloops, and the catrigged title went to D. Hindmarsh (X Facta).
June 1980
Victorian Mozzie titles
The Victorian Mosquito tities were sailed from Altona YC over two weekends. Alice Dee (J. Boyer) won the cat-rig crown with 5-1-6-1 results. Second was Mighty Mozzie (G. Lane) Dnf-3-1-3, and third Bid (J. Bapty) 3-2-8-2. Sloop-rigged title went to Rye Bred (C. Senior) Dns-1-1-2, from Mostang (D. Van der Voorden) and Double Trouble (G. Oliver).
August 1980
Sauna Sail
Almost 500 boats attended Victoria's biggest dinghy regatta, Latrobe Valley YC's Sauna Sail on the Queen's Birthday weekend. The Regatta, sailed on the State Electricity Commission's Hazelwood Pondage near Morwell, has become a winter tradition among Victorian smallboat sailors. The "Sauna" refers to the heated water stored in the pond, which is used to cool a nearby power station.
LVYC vice commodore Rod Bennett said this year's event was the biggest and most successful yet. Bennett can't see a limit to the size of the regatta: "Our organisation can cope with 500 boats as easily as 400." He believes that as long as the LVYC retains a core of experienced organisers and enthusiastic juniors, the regatta can continue to grow.
Among the individual classes the Paper Tigers were biggest with 59 starters. In monohulls Lasers, 125s, and Sabres had good fleets. There were also 50 juniors sailing in various beginners' classes including Sabots, Minnows, and Northbridge Juniors. In the last two heats a total of 493 boats competed.
A mosquito cat and a Flying Dutchman were the two division winners in the final Champion of Champions race. – Robert Keeley
September 1980
VYC YARDSTICK 1980/81
The Victorian Yachting Council's yardstick list for next season shows the relative performance based on the results of regattas and club races in Victoria and, to a lesser degree, other states. The figures marked with an asterisk are those which changed by more than two points.
Class
Primary
Secondary
Provisional
Aquanaut
 
 
155
Avenger
 
 
134
Bosun
 
 
125*
Cadet 1nl.
 
 
152
Cherub
112
 
 
Contender
107
 
 
Corsair
116
 
 
Delta
155
 
 
Fairy Penguin
155
 
 
Finn
110
 
 
Fireball
104
 
 
Flying Ant
137
 
 
Flying Dutchman
91
 
 
Flying Fifteen
 
 
112
Flying Junior
121
 
 
Flying 11
 
 
132
G.P.14
 
119
 
Gwen 12
 
116
 
Heron
 
146
 
Hornet
 
 
104
Impulse
118
 
 
Javelin
 
100
 
Jollyboat
 
 
104
Laser
114
 
 
Laser M
 
 
126
Laser 1I
 
 
109
Lazy E
114
 
 
Micron 3
 
 
130
Minnow
168
 
 
Miracle
 
 
130
Mirror
145
 
 
Mirror 16
 
115
 
Monarch
 
 
106
Moth
115
 
 
N.S.14
110
 
 
Northbridge Jnr.
 
165
 
Nova
 
 
108
O.D.11
 
 
139
OK
118
 
 
Optimist
 
 
176
Pacer
 
128
 
Phantom
 
 
111
Rainbow
 
121
 
Sabot
170
 
 
Sabre
128
 
 
Sail board (Open)
 
 
114
Sailboard (Windsurfer)
 
 
116
Sailfish
133
 
 
Sailfish Cadet
 
 
152
Sandpiper Cadet
 
 
143
Seafly
 
 
117
Sharpie LW.
93
 
 
Signet
 
 
144
Skate
 
 
104
Solo
 
 
122
Sparrow
144
 
 
Sunfish
 
 
132
Swinger
 
 
142
Tasar
108
 
 
Vagabond
 
 
132*
14ft Dinghy
90
 
 
125
121
 
 
145
 
 
113
420
 
 
118
470
 
103
 
505
96
 
 

---

A-Class
80
 
 
Arafura
114
 
 
Arrow
93
 
 
Attunga
 
 
98
Caper Cat
 
 
105*
Cobra
86
 
 
Dolphin
83
 
 
Elwood Jnr.
111
 
 
Graduate
81
 
 
Griffin
 
 
111
Hawke
 
 
105*
Hobie 14
95
 
 
Hobie 16
85
 
 
Hobie 18
 
 
78
Hydra
 
87
 
Kitty Cat
95
 
 
Maricat 4.0
 
 
112
Maricat 4.3 (cat)
 
98
 
Maricat 4.3 sloop (2-up)
 
 
102
Maricat 4.8
 
 
88
Mini Quest
91
 
 
Mosquito (cat)
82
 
 
Mosquito (sloop)
87
 
 
Nacra 5.2
 
 
77
Nacra 18
 
 
79
Pandamaran
 
 
104
Paper Tiger
90
 
 
Prindle 15
 
 
90
Prindle 16
 
 
87
Prindle 18
 
 
80
Quest 82
76
 
 
Quickcat
95
 
 
Scorpion
 
 
96
Sol Cat 15
 
 
95
Sol Cat 18
 
 
86
Solo 16
 
89
 
Stingray
 
 
79
Sundance
 
 
102
Tachos
88
 
 
Tornado
72
 
 
Tyro
 
 
124
Windrush
 
 
112*
Windrush 14 (cat)
 
97*
 
Windrush sloop (one-up)
 
 
95
Yvonne
 
 
85
November 1980
New Mosquito series
As a warmup for the national titles at Glenelg the Victorian Mosquito Catamaran Association is holding a pre-christmas travellers' series over four regattas. Venues are Waranga (November 1-2), Mount Martha (Nov. 16), Cairn Curran (Nov. 29-30), and the VYC Cat Classic at Elwood (Dec. 7). More information from Jim Boyer (03) 460 5962.
---
1989
August 1989
Vic and SA Mosquitoes
The Victorian Mosquito class State titles were sailed on Lake Cairn Curran in light airs at first, followed by solid 15 to 20kt breezes in the final two heats.
Greg Clark On Bulldozer took out the Mk 1 title convincingly, winning three heats, while David Brewer still recovering from a recent car accident, came second in Mean Machine. Phillip Mann and Stuart Ridge on Screwballs came first in the Mk 2 division, from Bob Wilson and his son Shannon on Shannon.
In SA Zeus (R. Thomas) won the Mk 1 series from Screaming (J.McEntee), and in Mk 11 True Blue (P&R Mansell) won from Foxy lady (P.Hallsworth / C.Heywood). The racing was held at Glenelg/Grange and the country venue of Meningie, in breezes ranging from 10 to 30kts.